---
Picture collection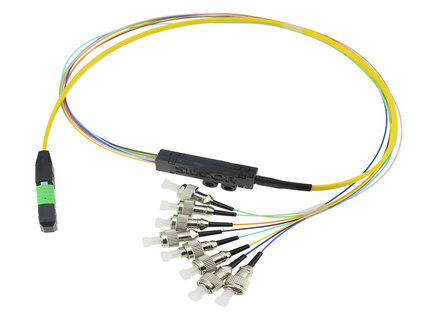 ---
MPO/MTP Harness Cable Assemblies
Overview:
The MPO / MTP harness cable assemblies, using the high density cable and MPO / MTP connector, utilizing fanout kit to assemble from trunk cable to generic fiber optic connectors such as LC, SC, FC, ST, MTRJ, etc. Available in 8/12/24/48 fibers versions as well as multi-mode (62.5/125, 10G OM2 / OM3 / OM4, Bend-insensitive fiber, etc.) and single-mode (G652D, G657A1 etc.) fiber types.
Benefits:Factory terminated & tested with guaranteed quality.
High density to dramatically save space.
Optimize network performance.
The best solution covers all fiber optic cabling needs in all areas of Data Center.
Features:
For transition from trunk backbone assemblies to fiber rack system.
MPO / MTP in 8/12/24 fibers interface for choices.
Single-fiber connector interface available in LC, SC, ST, E2000, MTRJ, Mini-LC in forms of Simplex or Duplex channeling.
Ruggedized fanout: Round or Square fanout kit with 0.9/2.0/3.0mm legs to single-fiber connectors, customized fanout length to cater for different installation situations.
Comply with Telcordia GR-1435-CORE, GR-2866-CORE, GR-326-CORE, RoHS.
Applications:
For installation in horizontal patch extension from consolidation point to the workstation outlets. High Density Fiber Management. DACS. LAN/WAN Premises.