---
Picture collection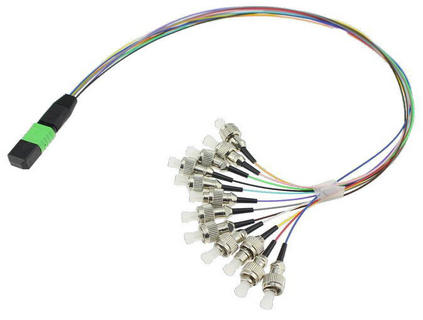 ---
MPO/MTP Hydra Cable Assemblies
Overview:
The MPO / MTP harness cable assemblies, is deployed inside plug and play cassette modules. This solution is a 12-colored 0.9mm cable utilizing a MPO / MTP connector on one end and generic connectors (such as LC, SC, FC, etc.) on the other end. They are available for purchase as a bundle with R&H's plug and play modules, MPO / MTP Adapter Plates, and other solutions. Available in 8/12/24 fibers versions as well as Multi-mode (Standard 50/125, 62.5/125, BI 10Gig 50/125) and Single-mode fiber types.
Features:
MPO / MTP on one end, with single-fiber connectors on another end.
MPO / MTP in 8/12/24 fibers interface for choices.
Single-fiber connector interface available in LC, SC, FC, E2000, etc.
12-colored 0.9mm loose tube according to TIA-568C to cater for easy fiber loading.
Comply with Telcordia GR-1435-CORE, GR-326-CORE, RoHS.
Applications:
For installing inside plug and play fiber cassette module.
High Density Fiber Management.
Telecommunications networks and CATV networks.
DACS.
LAN/WAN Premises.